Building an efficient SEO strategy for a large ecommerce website
OZON, multibrand marketplace
Russia (TOP2 ecom) and CIS
About the client:
450K orders daily
27 million SKUs on site
116M MAU
2 million keywords
Challenge
The SEO team needed to consider lots releases and changes every week in order to prevent:
lost indexability
URL structure changes
drop in search traffic
Solution:
To minimize negative effects on SEO, the SEO team organized regular meetings with the IT department to describe the importance of SEO, made a list of all the changes necessary to be approved by the SEO team, and started using a product-based approach.
To test new features and understand their impact on SEO, the SEO team chose the SEOWORK platform.
SEOWORK helps to test new ideas with experiments: the SEO team modifies a few pages, unites them into groups, and compares their visibility with the visibility of the whole site or any other group of pages. In this way, it becomes easier to understand if a new feature would be effective or not, and if the result would pay for itself.
After the release, the SEO team grouped pages with new features on the platform and tracked their visibility, so everyone would understand the impact of every feature on search traffic and conversions.
SEOWORK also helped to find the type of product page content with the biggest impact. That helped the team understand what type of content to invest in first.
For example, groups of pages with different text length had different visibility, so it was possible to win more traffic by adding additional text for some pages. Another example related to the number of reviews for a product. Obviously, more reviews is better for visibility but analytics showed the real impact came after more than 80 reviews were left.
On the other hand, there were projects that weren't worth investing in, for example backlinking for product listing pages.
Tech Monitor, another SEOWORK module, helps to maintain website health. It automatically sends alerts about technical issues to the SEO team and IT team, minimizing the risks of lost traffic.
With SEOWORK's extensive filters, the SEO team gets deep analytics about the whole site, groups of any pages, and even every single page. Plus, the analytics, displayed in clear understandable dashboards, are regularly shared with OZON's product team, IT department and marketing department.
Do you need help to calculate starting price?
Tell us your digital and business goals and we calculate it for you.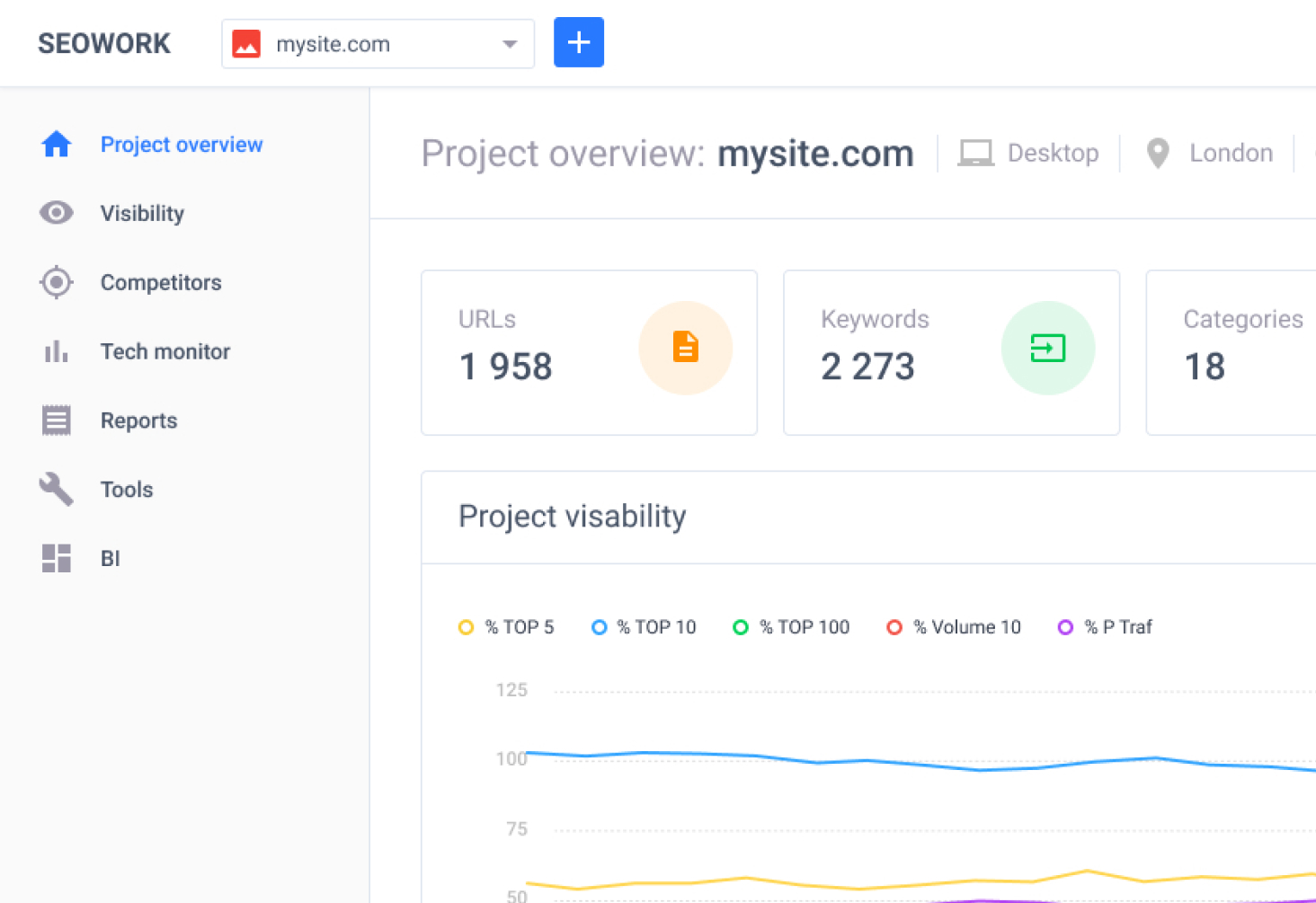 We use cookies on our site to provide you with the best user experience. Privacy Policy