Features
Visibility
It's all about search performance.
Know everything about every page and every keyword's performance.
Track the most important SEO metrics: ranking, visibility, search volume, potential traffic, and 20+ other metrics...
With the help of our extensive filtering, get all those key metrics for the whole site or for any category, group of pages, or single page. All metrics are collected simultaneously; just choose the period for monitoring and find out what's going on with search performance.
Find solutions and opportunities for growth in 2 clicks.
Track growth rates to understand where you can improve to get more search traffic. Minimize the risk of losing traffic with alerts about pages with falling traffic and react right away to improve the situation.
All analytics are available for the whole site, groups of pages, single pages, and keywords.
Competitor insights
Be informed about competitors' rankings.
Track competitors for the whole site, categories, groups of pages and keywords, or even a single page, simultaneously.
Compare your rankings with the common trend and important competitors' results.
Find out the leaders and the laggers.
The wide range of different filters allows you to:
analyze competitors for your whole site or groups of pages;
find leaders and laggers after Google algorithm updates;
understand your competitors' rates of growth or falling;
find newcomers.
Analyze sites with similar results to find out the common features that made it possible for them to achieve success, for example, after the latest Google algorithm update.
Website health monitoring
Build an error-free site.
Track technical metrics related to site health and performance such as indexability, availability, download speed, and 20+ other metrics.
Get alarm notifications by email if something goes wrong, and you will be able to react quickly and minimize the risk of losing traffic due to technical errors.
A/B tests (SEO experiments)
Check your ideas with experiments and build a successful website!
Create groups of pages with the same features, compare their rankings and visibility with other groups' rankings, and measure new features' impact on success.
This way, you can test new ideas for SEO features, technical parameters and content, like text, number of photos, video, 3D, and UGC. Find the best ideas for improving performance, measure their effectiveness based on real data, and understand what should be implemented first to get more search traffic.
BI reports / analytics
Powerful and understandable analytics
All the data and metrics we collect are displayed on dashboards in an internal BI platform — you don't need to waste time gathering and processing the data by yourself. You can get insights into seasonality and traffic volume, track search traffic and visibility, and discover new possibilities with our ready-made dashboards:
visibility desktop vs. mobile
visibility categories vs. listing
visibility, volume and volume share for any category
visibility by different geographic locations
competitors' visibility in dynamic view
competitors' visibility for any category or group of pages
volume for competitor brands.
Get deep analytics about the whole site, groups of pages or keywords, or single pages with extensive filters.
All analytics are displayed in a clear, understandable way, so you don't need to waste time preparing them; just share the link with your marketing team or send ready-made reports to managers.
Enrich your BI with new data
If you want to analyze data yourself in an external BI service (Power BI, Google Data Studio, Tableau, etc.) you can enrich your current data with the data from SEOWORK via API without any additional fees.
Measure Efficiency
Prioritize SEO tasks and measure return on investments
Get to know what should be improved first with our analytics: find categories and pages with low visibility, errors to fix, and poor content, check their potential to grow in search results, and prioritize tasks and investments.
Unite such pages in groups and track key metrics to measure success and get a return on your SEO investments.
Do you need help to calculate starting price?
Tell us your digital and business goals and we calculate it for you.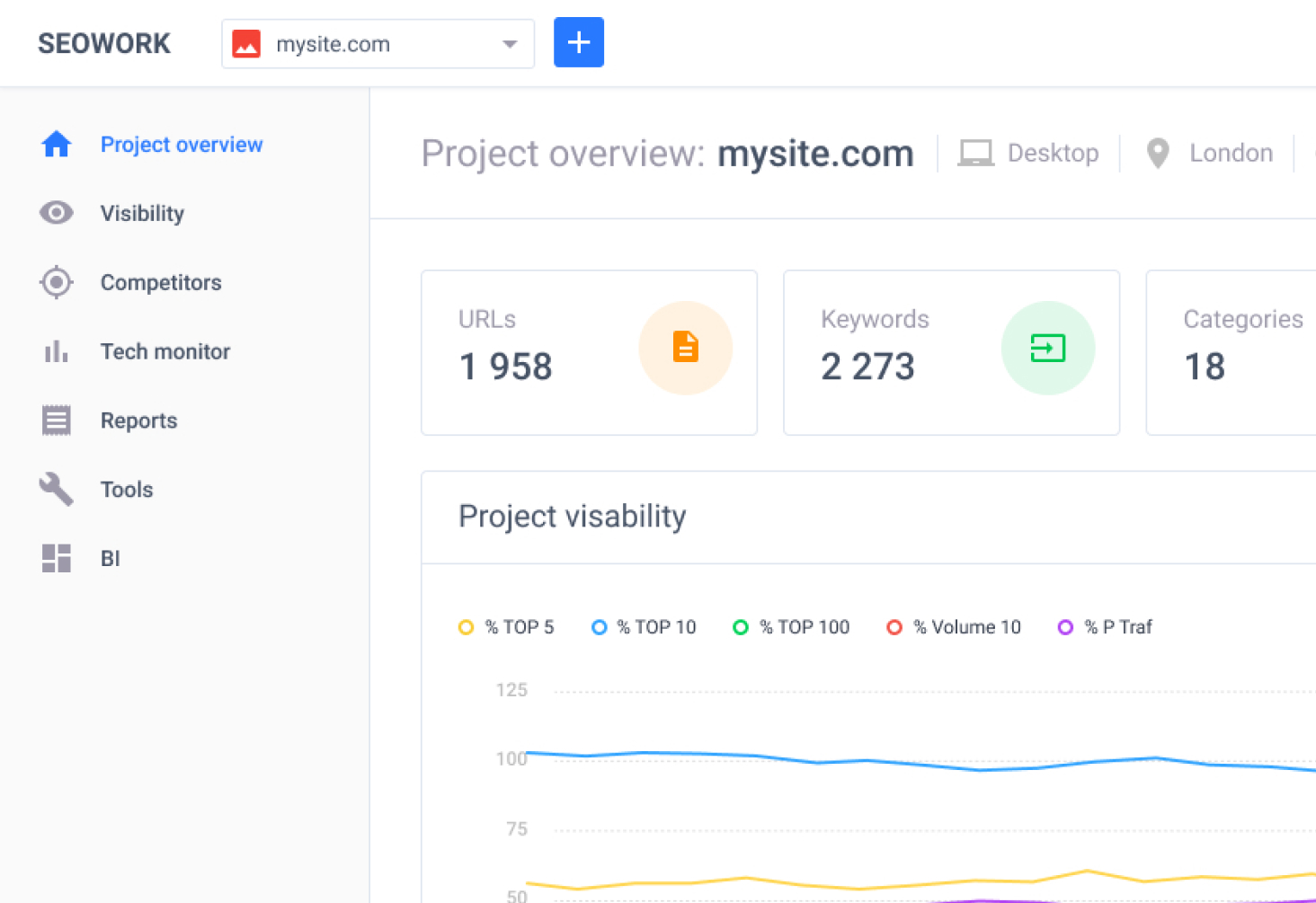 We use cookies on our site to provide you with the best user experience. Privacy Policy