Today, many companies have blogs. They help to form an expert image, increase interest in the company's solutions, and generate organic traffic. But search engine algorithms are changing and becoming more complex, and today, having keywords in articles is not the only factor for content success.
In this article, we will tell you what to pay attention to when creating a content strategy and publications to rank successfully in Google.
If you are promoting an international (global) blog and aiming for active promotion in Google, we recommend focusing on the concept of the search algorithm E-E-A-T when creating content:
Experience
Expertise
Authority
Trust
This is a relatively recent update to Google's search algorithm related to content quality assessment (QRG) for search.
According to Google's recommendations for evaluating search quality, trust is earned by demonstrating experience, knowledge, and authority.
What does this mean and how can you prove your experience, knowledge, authority, and reliability?
Let's figure out what you can consider when creating content to get closer to E-E-A-T.
Experience
Think about real-life experience – experience firsthand on the topic you are writing about. It is the main distinguishing feature between content written by a person and artificial intelligence.
How can you demonstrate it?
Show that a real organization stands behind your site.
Emphasize your experience, services, or solutions that you provide – those same case studies and success stories.
Show that trustworthy people stand behind your articles.
Think about what should make customers feel more comfortable before spending money on your solution. For example, a "cases" section, a well-thought-out "About Us" company history page, or a separate section telling about the authors of the blog articles.
Expertise
The Google algorithm assumes that expertise refers to the degree of knowledge and competence demonstrated in the article or author. In addition, expertise inspires confidence in the reader, so we would recommend adding:
Author's name
Descriptive biography
Author's appropriate qualification
Social media profile links
Enhancing audience trust will lead to other positive interactions with the site and content that will indicate to the algorithm that your site can be trusted and ranked higher.
Authority
Authority is the degree to which the author of the content is known as the primary source on a given topic.
Authority can be demonstrated in three main ways:
Creating content architecture that covers all aspects of a specific topic (write more articles around one theme)
Obtaining backlinks from other authoritative sites (your content is valuable)
Creating the image of a company or author as an expert in a particular topic.
Authority, knowledge, and experience go hand in hand. You cannot be an authority on any topic without experience and knowledge, and vice versa.
The more high-quality, useful content for readers successfully indexed by Google, the more authoritative your site becomes on a specific topic.
Backlinks have less weight than before, but they still indicate an authoritative site. Obtaining backlinks from other authoritative sites will also indicate that your site is trustworthy.
Trust
If you put everything in order, we will see that trust is formed by demonstrating experience, knowledge, and authority in combination.
Implementing E-E-A-T principles in a content strategy can be a challenging process, but even small changes will give good results in the long term. This way, you can track changes in visibility, conversions, and transactions for specific publications. For example, these may be publications with an added "about the author" block.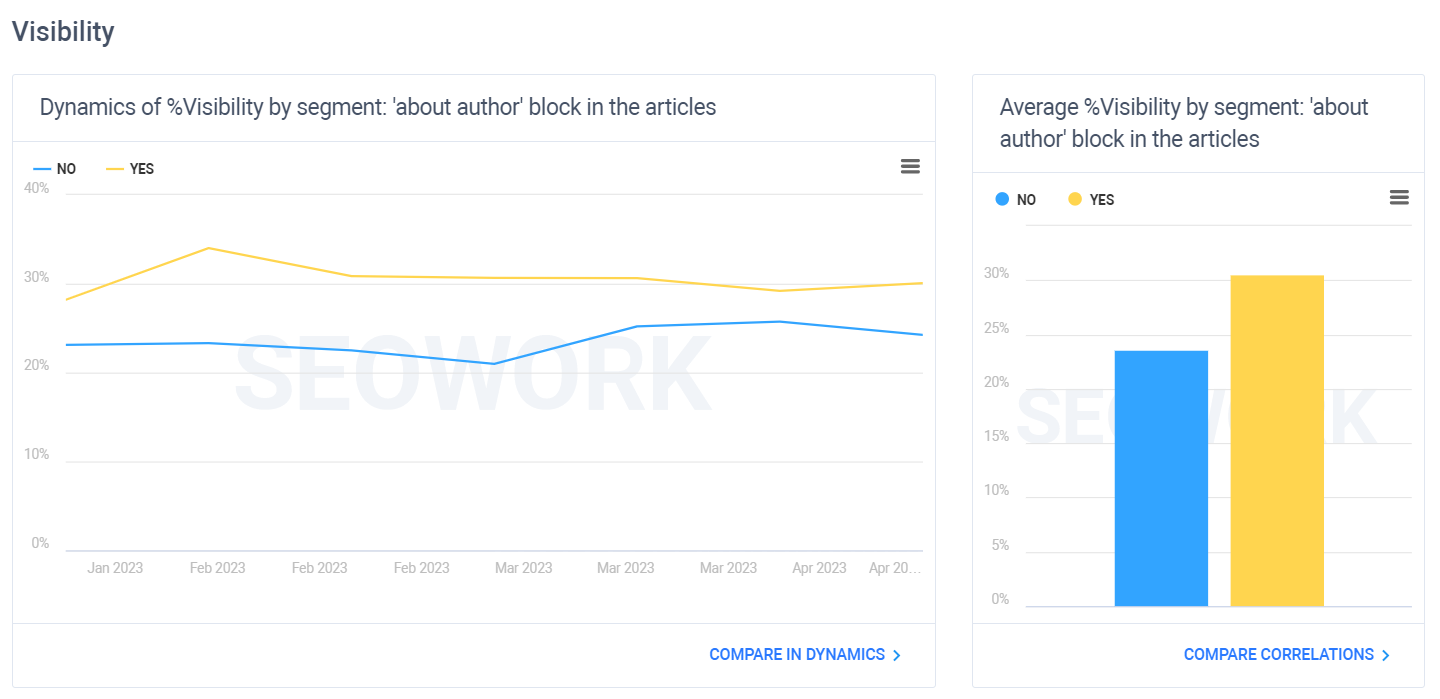 Articles of this blog with brief information about the author rank on average 10% better than articles without information about the author.
If you doubt the expediency of a particular innovation in your content strategy or are unsure that the costs will pay off, you can always conduct an A/B test: compare the search visibility of several pages with the updated concept to the visibility of other pages. If the difference is significant for you, you can confidently scale the idea and adjust the content strategy, knowing in advance how this will affect the effectiveness of the entire project.

Experiment: the search visibility of the group of articles to which users added comments is higher than that of the articles in the control group without comments.
Try it out for your project!
Create segments in SEOWORK based on authors, topics, content characteristics, and optimize your content strategy for different geolocations and languages.